After two weeks of negotiations, some going on well into the night (my sympathy's with the caterers), the COP21 summit in Paris has led to a legally-binding agreement which aims to keep global warming to below 2C.
This feels like a victory for democracy; representatives of 196 countries agreeing to work together and actually compromise for the good of all. A good day for humanity.
First, a roundup of media reaction to the deal. The Guardian hails the agreement as the "world's greatest diplomatic success" and calls it an "extraordinary event", but cautions that "the caps on emissions are still too loose, likely to lead to warming of 2.7 to 3C above pre-industrial levels". The BBC observes that the deal is "without parallel" and has a good article on the key points of the text.
The BBC website also gives us a run down of the global media reaction. It highlights the New York Times' remarks that the agreement is "a healing step, if not a cure", while Indian newspaper The Hindustan Times argues that the agreement is a "mixed bag" for India. The BBC also give us this nifty collage of front pages around the world:
(Source: http://www.bbc.com/news/world-europe-35087821)
The Independent, meanwhile has an interesting opinion piece on the weak points of the deal:
http://www.independent.co.uk/voices/cop21-the-paris-climate-treaty-is-a-long-way-from-solving-the-problem-but-is-still-a-genuine-a6771811.html
As does George Monbiot in his blog for the Guardian. He begins his argument with characteristic strident eloquence: "By comparison to what it could have been, it's a miracle. By comparison to what it should have been, it's a disaster":
http://www.theguardian.com/environment/georgemonbiot/2015/dec/12/paris-climate-deal-governments-fossil-fuels
And here's a good, brief article from the Irish Times on what the agreement will mean for Ireland, sector by sector. Not unexpectedly, agriculture is identified as the main issue, with Irish companies warned to expect "hetfy carbon levies" in the future:
http://www.irishtimes.com/news/environment/paris-agreement-profound-changes-ahead-for-ireland-1.2465016
What about the agreement itself? Well it can be downloaded from here in all it's 32 page, un-user-friendly glory. Note that the agreement itself  and its articles doesn't start until page 22:
http://unfccc.int/documentation/documents/advanced_search/items/6911.php?priref=600008831
Looking beyond all the legal jargon, there are several key points to the agreement:
To hold the global average temperature rise to "well below" 2C and "to pursue efforts to limit the temperature increase to 1.5C". This reference to 1.5C was the subject of much negotiation and environmental groups are pleased at its inclusion, although cautioning that the pledge must be backed up by action.
Developed countries agree to provide $100bn per year until 2020 to help developing countries with "mitigation and adaptation", although this is not legally binding, primarily as a result of US opposition.
There will be a "global stocktake" every five years reviewing each country's emissions and asking them, if neccessary, to reduce their emissions further.
A "loss and damage" paragraph is included, recognising the impact of climate change on more vulnerable and poorer countries. Although richer countries are not asked to offer compensation, some commentators see this paragraph as a step in this direction.
No doubt we'll be talking about the Paris agreement a lot more in the months ahead as countries come to grips with the idea of "net-zero emissions". Hopefully policy-makers will take this opportunity to bring about real economic and societal changes and COP21 will be remembered as a watershed moment in climate change policy.
Finally, this, just because: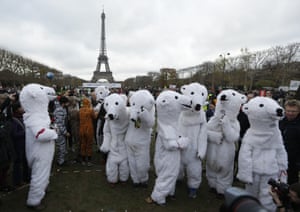 Bringing a whole new meaning to hair shirts. Activists demonstrate in Paris during COP21