A few weeks ago the Sustainable Energy Authority of Ireland (SEAI) hosted the Energy Show, a two day renewable energy showcase incorporating seminars on topics such as energy efficiency for business, Ireland's energy targets and SEAI's energy research projects, along with a workshop on community energy. The show also gave energy providers and innovators a chance to show off their products, with some, such as electric cars and bicycles, available for attendees to try out.
The SEAI led several seminars which typically featured some of their own research, followed by a number of industry speakers. The first of these was a fascinating session on electric vehicles. The Irish government has set a target that 10% of all vehicles on the road by 2020 will be electric. To support this, an enhanced charging infrastructure will have to be put in place e.g. petrol stations would need 12 chargers, 11 standard and one "fast". A proposed fee of €4.50 per slow charge and €9 per fast charge was mentioned. For more on electric cars, the following are good sources:
Energy show attendees could test drive both electric cars (smooth and quiet) and electric bikes (great for the wind and hills). Bikes were provided by Greenaer (http://www.greenaer.ie/)
Electric bicycles at the Energy Show
Car of the future – Tesla Model S with over 400km range
Another great SEAI presentation was on Ireland's energy use, which covered energy sources, uses, trends and targets. Among the statistics quoted were that Ireland currently imports 85% of its energy, and that transport is the largest emittor of energy-related CO2. The SEAI has an excellent report, Energy in Ireland 1994 – 2014, available here:
…and has also produced this nice infographic:
On Day 2 of the Energy Show, Friends of the Earth Ireland hosted a very well-attended workshop on community energy. This began with a presentation on EPISCOPE, a fascinating study of energy efficiency in northside Dublin housing stock (http://episcope.eu/monitoring/case-studies/ie-ireland/). It was noted that a deep retrofit of 75% of Ireland's residential housing stock will be required to meet our 2050 energy efficiency targets.
Also presenting were the Tipperary Energy Agency (http://tippenergy.ie/) and the Energy Communities Tipperary Co-operative (https://energycommunities.wordpress.com/), who gave participants the benefit of their experience in setting up community energy projects. They suggested that co-ownership is key: it is better, for example, to have a small share in a large turbine than to have your own turbine. It was also noted that the difficult part is preparing projects for financing, rather than obtaining financing. Some useful resources for communities looking to set up their own energy projects were mentioned:
A different focus was provided later in the day by a session on energy efficiency for large businesses. We heard about the work of Jansen in partnership with the Cork Lower Harbour Energy Group (http://www.clheg.ie/), and Kingspan ESB, who are helping companies to use their office or factory roof as a "solar farm" (https://kingspanesb.com/about/). The latter's representative stressed that there must be a "business case" for such initiatives: "everybody likes to be seen to be green, but the figures have to add up at the same time".
Finally, SEAI gave a fascinating presentation on Irish consumer behaviour around energy use. Their extensive survey revealed four categories of consumer, as shown in the infographic below: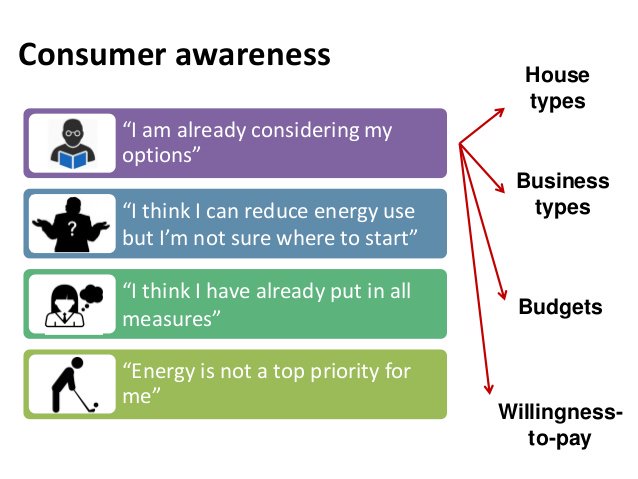 SEAI suggested that regulation will be needed to change the behaviour of the final group, the "disengaged". In the meantime, lets hope that the thousands of visitors to the Energy Show came away inspired. SEAI also have a very interesting report on attitudes to energy use in business; read the PDF here: