Over the course of the three day Environ conference at the University of Limerick at least 90 speakers presented on a wide range of topics related to the 2016 theme of "Ecosystem Services for a Sustainable Future". Here is what some, including the three keynote speakers, had to say.
Prof. John O'Halloran, Chair of Zoology at University College Cork, gave the first keynote of the conference. His presentation focused on his research on forest ecology and biodiversity, and the balance between forest management and ecosystem services. He noted that deforestation of at least 3 million hectares – an area the size of Belgium – occurs worldwide every year. Prof. O'Halloran called for forest diversity, citing the results of his recent research which suggest that more diverse forests attract more birds. He also offered this attractive graphic illustrating the connection between humans, biodiversity and ecosystems.
Prof O'Halloran also spoke briefly on UCC's Green Campus initiative (https://www.ucc.ie/en/greencampus/). As part of the initiative UCC started a Sustainability module, held over 35 events in 2015, and linked 35 courses to Green Campus. The University now has a recycling rate of 35% and has saved 1m in waste costs. Green purchasing is part of all tender contracts and it is the first third level institution to reach ISO90001.
Finally, he stressed the importance of education for sustainability, noting that between 8 and 10 years old is the optimum age for environmental education. He also cited the Government's 2014 policy for sustainability education:
The next keynote speaker was Katy Tsemelis of the International Aluminium Institute (http://www.world-aluminium.org/), whose presentation highlighted the new ways of managing the environmental impact of bauxite residue, a by-product of aluminium production. She also stressed that global aluminium demand will have to be met increasingly by recycled aluminium products..
She was followed by Prof. Dave Goulson of the University of Sussex, who gave an illuminating presentation on his work on the impact of insecticides on bumblebee populations. In particular he looked at the impact of neonicotinoids, or "neonics" (http://bees.pan-uk.org/neonicotinoids). He also drew our attention to the WWF's statistics on biodiversity decline worldwide.
Aside from the keynotes, some of the other presentations included:
Dr. William Finnegan of NUIG looked at the impact of the dairy industry on climate change, and showed us which dairy products have the greatest global warming potential (GWP):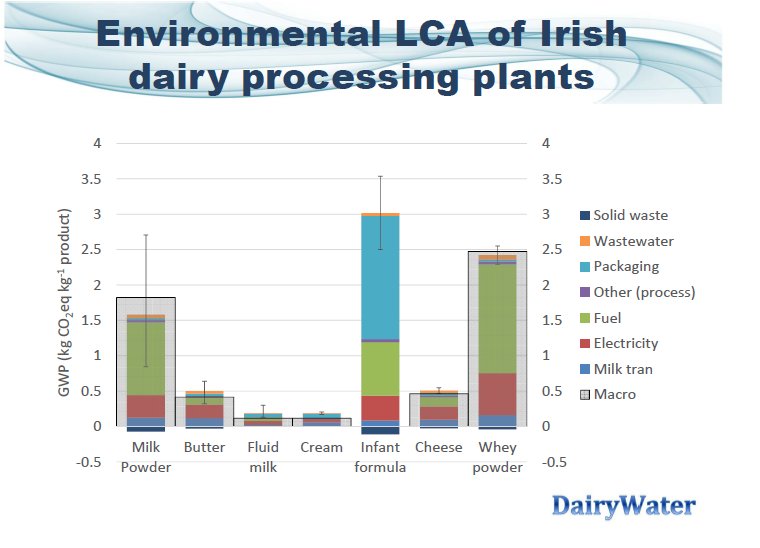 Drs. Brian Lennon and Niall Dunphy, part of the major new ENTRUST research project at UCC (http://www.entrust-h2020.eu/), explored the possibility of a "new energy paradigm", and discussed the need to move beyond "energy as a commodity" towards "energy citizenship". They also presented this gif from skepticalscience.com on "milestones in climate science":
Another interesting presentation came from Teresa Hume at Queens University Belfast, who discussed the University's large EPA "energy transitions" project, which is looking at the societal process of energy transition, drawing from the socio-technical transition studies literature. She stressed that energy transition must be a multi-level, multi-phase and multi-actor process.
Finally, here's a few of the many excellent poster presentations from the ENVIRON delegates.